These are my thoughts. They are not meant to make sense. They are my echo into the woods. I am the tree that falls, and it is here that I make a sound.
Most recent babblings
The history of babble of the modern psychotic blonde
Warps to others, warped and otherwise
Sanity Optional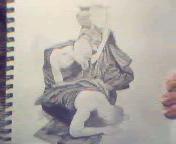 whole picture - sorry it's fuzzy...I am conspiring to attack my scanner when it least expects it...until then this must do.

moodymicello
said...
Very nice. what was your inspiration?
links to this post
Copyright © 2005 Blondzila (because no one else would own this).