This is Blue now. She swears the Monster Rabbit just overpowered her. Swears the thing was six feet tall and monstrous. We just nod and politely go along. Poor dog. Therapy begins next week. It's a group concept lead by Huckleberry Hound entitled: "Getting in Touch with your Inner Puppy: a Modern Dog's guide to Accepting Your True Urban Self"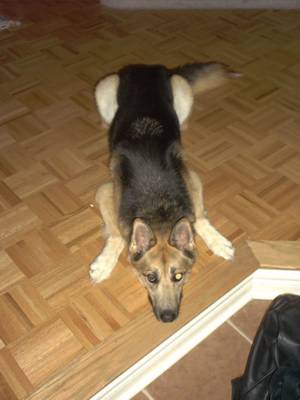 Franikins
said...
That was hysterical! Funniness enhanced by my night time sleep aids. Dogs are wonderful creatures who always rise to the occasion. Go Blue!
moodymicello
said...
tHAT WAS GREAT! pOOR bLUE! mAYBE HE'LL BOUNCE BACK AFTER A LITTLE THERAPY WHEN HE FINDS OUT HE'S NOT ALONE IN HIS PROBLEMS. AFTER ALL, HE WAS PRETTY WELL ADJUSTED BEFORE THE TRAUMA OF THE EVIL INTRUDER. I'M BETTING HE'LL PULL THROUGH JUST FINE. I'M BETTIN' ON BLUE.
Dangerous Mind
said...
That was great!
Very funny and very creative:-)
links to this post